David Agren in Mexico City
@el_reportero
Friday 29 July 2016 02.30 BST
Activists accuse Governor Javier Duarte of ignoring massive crime problems in Veracruz as he pushes through bill to outlaw abortion in all circumstances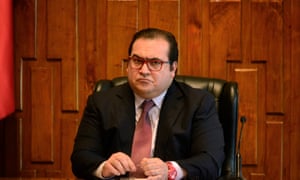 The six-year term of Veracruz state governor Javier Duarte has been marked by controversy. Photograph: Roger López for the Guardian
A controversial Mexican state governor has pushed through a draconian anti-abortion bill as his term comes to a close. Lawmakers in Veracruz state approved a constitutional amendment on Thursday to "protect life from conception" – effectively outlawing abortion in all circumstances.
"I congratulate legislators of the Veracruz legislature for saying yes to life," Governor Javier Duarte tweeted after the vote.
Abortion laws have been liberalised in Mexico City – and upheld by the supreme court in 2008 – but at least 18 states have subsequently approved laws or constitutional amendments outlawing the procedure.
Veracruz's ban will become effective after a majority of the state municipalities approve the measure – likely to be a formality as most are controlled by Duarte's Institutional Revolutionary Party (PRI).
Duarte has cut a controversial course throughout his six-year term as governor of Veracruz, on Mexico's Gulf Coast, attracting accusations of thuggery, misappropriating public money and showing a crushing indifference to the murders of at least 19 journalists. Press freedom organisation the Committee to Protect Journalists has called Veracruz "the most lethal place for the press in the western hemisphere".
Reproductive rights groups questioned the governor's priorities given Veracruz's problems with crime and hundreds of missing persons – a problem so severe citizen brigades have been combing the state in search of clandestine graves.
"What this means is that the governor cares more about life in gestation than the hundreds of disappeared persons in his state," the Information Group on Reproductive Choice said via Twitter.
The state's Catholic bishops and evangelical leaders – groups reticent to criticise Duarte during his troubled tenure – openly lobbied for the abortion ban and said the governor had promised to act on the issue.
The vote in Veracruz came the day after Duarte made his net worth public. An investigative report by news organisation Animal Politico found the Veracruz government had awarded 645 million pesos ($34m) in contracts to shell companies linked with close associates.
Duarte denies any wrongdoing. He had proposed a package of "protection" laws, which would have allowed him appoint anti-corruption magistrates to serve during the term of his successor, who won election in June on a platform of putting corrupt politicians in prison.
Source: The Guardian