'If it was put to the vote it would have passed,' says Northern Territory chief minister, adding that Kezia Purick never called to ask if he supported the bill.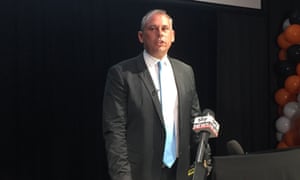 A Northern Territory bill to legalise the abortion drug RU486 would have passed except its proposer, the former speaker Kezia Purick, "did a terrible job", Adam Giles has said.
The chief minister was speaking on a panel organised by the Northern Territory Council of Social Service (NTCoss) ahead of the NT election on 27 August.
The panel, which included the Labor leader, Michael Gunner, and three social services executives, also covered child protection, the justice system crisis, alcohol policy, homelessness, suicide and the Safe Schools program.
The private member's bill brought by Purick would have brought the NT into line with the rest of the country in allowing women access to RU486, but failed amid tense and emotional debate, including claims by MPs that abortion was a "fashion" which would soon end.
[continued at link]
Source: The Guardian